Product Description
This signature necklace of the "Pieces in Time" jewelry collection features rare fossils, semi-precious stones and ancient artifacts combined with luminous, multi-hued Venetian trade beads. The secure, bar-and-ring toggle clasp is hand-shaped from fossil ivory or bone.
"Pieces in Time" necklaces and earrings add flair and originality, make wonderful heirlooms, and quickly become a treasured wardrobe staple. Each distinctive piece stands alone and adds intrigue and beauty to enhance even the most sophisticated woman's sense of style. The rich, earthy hues of the stones, fossils and trade beads provide a dramatic accent that works easily with both bold and muted colors.
"Pieces in Time" necklaces are 17 – 19 inches long including the clasp. This necklace length, the most popular and versatile, is often referred to as a princess style and falls close to the collarbone. For an elegant look, pair a necklace with a V or crew-neck sweater or t-shirt; wear it under a jacket, over a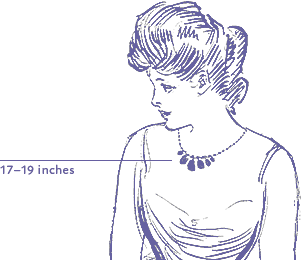 turtleneck in the winter or to set off a low neckline. If a shorter length is preferred, choker length necklaces, which fall around the base of the neck and average 14 – 16 inches long, may be ordered at no extra cost.