"Pieces in Time" creator Alex Linke was born on a farm in Bavaria, Germany, near the end of World War II. When he was eight years old, he found a shard of pottery near the site of an old Roman wall in his father's field, a discovery that launched his life-long passion for collecting ancient ornaments, coins, beads and artifacts.
At age 13, Alex moved with his family to Malibu, California, and became a U.S. citizen. Soon he became a devoted surfer, diver and beachcomber, endlessly intrigued by the beauty and diversity of marine life.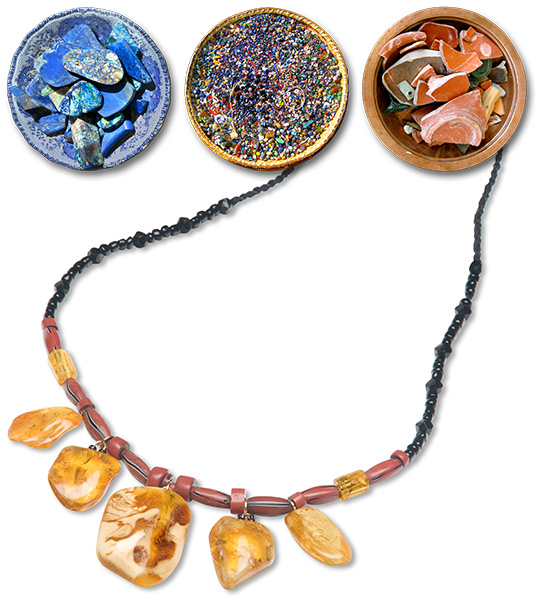 Click on the large stone for a description
In the early 1960's, Alex worked as a charter boat captain and commercial fisherman on the California coast until the Vietnam War took him to Southeast Asia, where he skippered a tug boat in the Mekong Delta before becoming Harbor Master at the Port of Danang, a job he held until shortly before the fall of the Saigon government. Returning to the U.S., he bought a 70-foot shrimper in Texas, sailed it through the Panama Canal, and for three years fished the waters from San Francisco to Mexico, supporting three families with hauls of swordfish, tuna, rock-fish and squid.
Finally giving up life at sea, he settled on the Oregon Coast, putting his maritime and management skills to work as director of the Port of Bandon, a post he held for 26 years until his retirement in 2007. During his tenure as port director, he led the effort to revitalize and transform the towns waterfront into one of the most picturesque and visitor-friendly destinations on the Pacific Coast. He also raised four children, whose success in their own lives is his greatest source of pride.
Today Alex builds his jewelry collections in his studio overlooking the Coquille River in Bandon. When not in Oregon, he usually is ocean the road searching for stones, beads and artifacts, often on a walk through the desert or along a little-traveled beach. In new places, he finds inspiration combing local markets for everyday ornaments worn by indigenous peoples.
click the images below for some thoughts by the artist