PIECES IN TIME JEWELRY
Designer Alex Linke's handcrafted jewelry combines naturally formed elements with historic artifacts and treasures. His artful blending of nature and human history creates unique pieces of exceptional beauty, each with its own special story.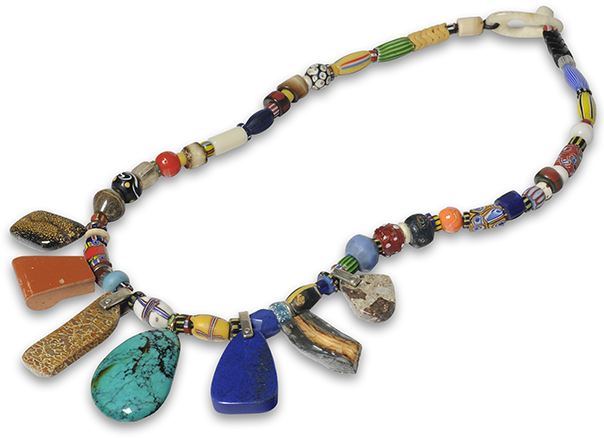 Click on the large stones for "A Journey Through Time"
ONE OF A KIND 
Alex personally selects, shapes and polishes each component. For example, his signature piece the "Journey in Time" necklace displayed on this page features an array of stones, fossils and historical keepsakes, as well as a colorful selection of old and highly prized trade beads and a clasp made from bone or fossil ivory. A photo and detailed description of the necklace components signed by the designer accompany every sale and document the provenance of the piece handmade in Alex's studio on the Oregon Coast.
The "Pieces in Time" jewelry collection includes a variety of styles of necklaces and earrings that can be worn in both formal and casual settings. Each piece makes a bold and highly personal statement.